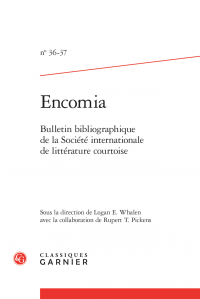 Members receive a copy of Encomia, the annual bibliographical bulletin of the International Courtly Literature Society. The first volume was published in 1975. The latest volume is nos. 36-37 and covers the period 2012-2013. For more information, see our latest announcement or the publisher's website.
For information regarding library and agency subscriptions to Encomia, please contact Louison Brolles at Classiques Garnier, louisonbrolles@classiques-garnier.com.
Some back issues of Encomia may be available to members. For inquiries, contact Garnier at contact@classiques-garnier.com.
If you wish to join the bibliographical team, contact Encomia editor, Beverly Evans, evans@geneseo.edu, to be referred to your branch Chief Bibliographer.